Sustainable tourism: co-building the innovative hub
A two-day online workshop took place on the 11th and 12th July 2022 on co-building for innovative hub on sustainable tourism. The two sessions of the 12th July were devoted to the Smart Tourism Business Model (STBM) and Shaping the Innovative Hub.

Region Occitanie organized that meeting with its partners in Croatia, Italy, France, and Greece. About a dozen people discussed the benchmark results for existing platforms on sustainable tourism as well as scenarios for innovative hub.

For the partners "the innovative hub should become a reference hub on sustainable tourism and automatically route to existing platforms." After evaluating several functions, the audience determined the features of the hub: knowledge centres, educational contents, connecting people, trainings.
"What are the characteristics of a good communicative deliverable?" asked Magali Ferrand, Director of strategic coordination, international, Europe. The partners threw several ideas, among them: "consistency, translation, concise, pedagogical, visual, and transferable".

Magali Ferrand, suggested to the participants to "select the practices by order of importance in the six following items: platform dynamics, technical aspects, attractiveness, sharing documents, trainings and webinars, connecting people". The contributors agreed that platform dynamics and attractiveness were the most important items.

They were then asked to decide on the conditions of success that, according to them, were the easiest to implement within the above-mentioned categories (see picture below).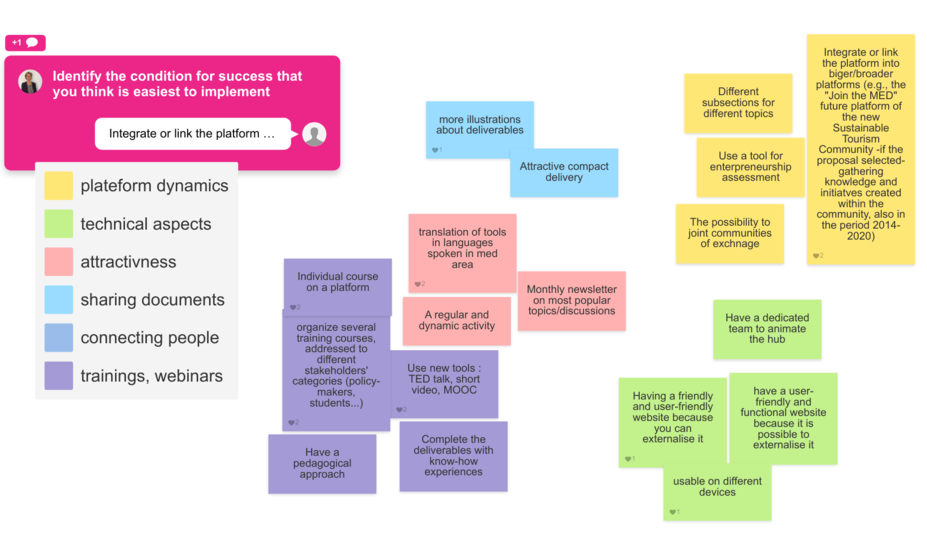 Two groups of obstacles to implementing the innovative hub emerged during the 2nd session: economic model (for example: the sustainability of the platform, the financing outside EuroMed projects) and demands and needs (no use by the most relevant stakeholders, the hub does not satisfy specific demands, among others).
The participants identified first their most important targets to disseminate the STBM within their country: public actors such as elected representatives and civil servants, DMOs, business incubators, SMEs, universities.
Then the partners discussed the tools and methods to be used to spread this model (see picture below).